Attract-Mode is a graphical frontend for command line emulators such as MAME, MESS and Nestopia. It hides the underlying operating system and is intended to be controlled with a joystick, gamepad or spin dial, making it ideal for use in arcade cabinets. Attract-Mode is open source and runs on Linux, OS X and Windows.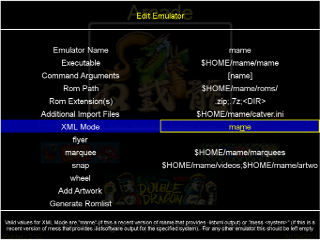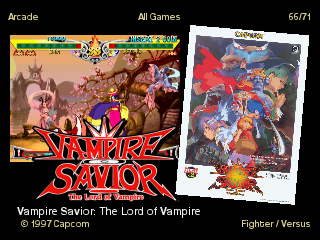 Features
Open Source, Cross Platform
Easy Configuration
Built-in configuration menu, with on-screen help messages, for easy configuration of most settings.
Frontend settings are stored in simple text files, so it is also easy to configure from your favourite text editor.
Looks Good
Fully scriptable display layouts written in the Squirrel programming language.
Supports many different image, video and audio formats, including SWF.
Layouts can arbitrarily position, colour, scale, rotate, pinch and skew layout artworks, text, images and videos.
Various built in animations available (Penner easing functions, fades, sprite animation, scrolling text, and many more).
GLSL shader (vertex and fragment) support.
Configurable screensaver.
Display layouts/skins from other frontends (Hyperspin, MaLa, MameWah).
Arcade Customizable
Frontend actions can be mapped to any joystick, keyboard or mouse input (or unmapped completely).
Built-in support for multiple monitors.
User configurable sounds and ambient music.
Supports screen rotation and flipping (including auto-rotation to match games).
Plug-ins to extend frontend functionality and integrate with external programs (such as LED control or joystick mapping software).
Exit hotkeys can be configured for emulators to force them to exit, even when they don't want to.
Organize your Content
Filter and sort game lists based on multiple game attributes.
Easily mark and cycle through your favourite games.
Automatically generate game lists from directory contents.
Import game information from MAME/MESS -listxml and -listsoftware commands.
Import game lists from Hyperspin and Mamewah/Wahcade!.
Scrape missing game information and artworks from thegamesdb.net, mamedb.com and progretto-snaps.net.
Catver.ini, nplayers.ini and history.dat file support.
Track game usage statistics (times played, total time played).
Steam support.
Available localizations: English, French, German, Japanese, Korean, Spanish.
Version 2.0 Documentation: